<
!– Twitter Card data –> <!– Open Graph data –> <!– Schema.org markup for Google+ –>

You need engagement. We get it. Our Social Engagement platform will keep you in formed on which keywords are being mentioned most, which social sites are working better and how your competitors are working it.  Information that will help you make more money.
Your Social Media Marketing is Empowered with Reliable Data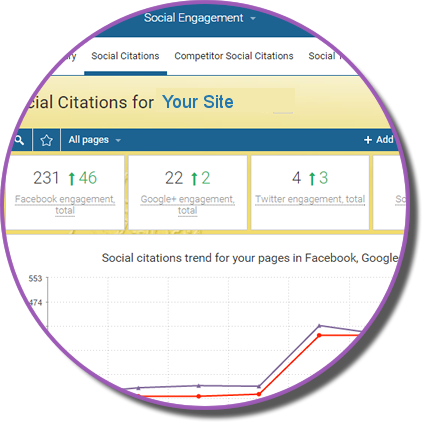 Manage Your Online Reputation
You can stay informed when your most important keywords (including competitor names) are mentioned on hundreds of thousands of discussion forums, blogs, microblogs, social networks, bookmarks and other sites with communication functions.
Social Media Popularity Monitoring
Now, you can track your social media ROI. Monitor how often your content is shared, liked or commented on Facebook, Twitter and Google+.
Competitor Social Media Citations
You can analyze your competitors' social activities and set goals for your brand.
What You Get with the Social Metrics Tools
Social Media Engagement
Know how you should fine-tune your social media marketing by tracking social activity that links back to your landing pages from Facebook, Google+ and Twitter.
Reputation Management
You can use the tool as a reputation management tool by entering your company name and the brand names you want to track. Posting links on your site where applicable, you can participate in highly relevant conversations.
Social Widgets
With the help of beautiful and descriptive widgets, you will be able to track how your social media activities results change over time, giving you a good indication on your strategy.
Track Industry Trends
Set the Web Buzz Monitoring tool to search for keywords describing your industry. You will always be notified of current hot topics.
Competitor Social Popularity
Track your competitors' social media popularity by adding their websites to the tracking tool. You can fine-tune your own social media marketing strategy by knowing what your competition is up to.