Keyword Research Tool
You need ideas. We get it. Our Keyword Suggestion Tool offers unlimited suggestions of keywords and phrases relevant to your business. You can analyze their effectiveness and zero in on the keywords that will help you make more money.
Keyword Research and Analysis
A Powerful, In-Depth Tool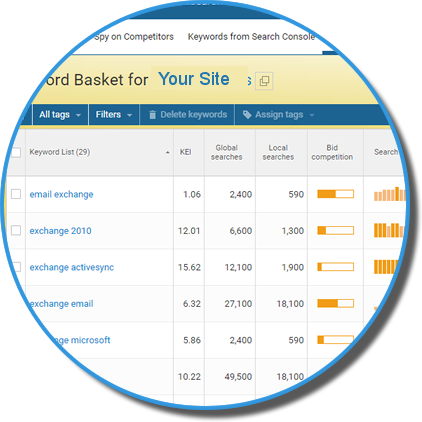 Spy on Your Competitors
This is one the most effective tools you will ever use. Now you can see what your competitors are already using and develop your marketing strategies from there. It's like having eyes on the inside!
Integration with Rank Checker and SEO Auditor
Forget about copy-pasting and jumping from one SEO tool to another. Automatically find and use the keywords you select in all of our tools, including Rank Checker and SEO Auditor, at no additional cost.