<
!– Twitter Card data –> <!– Open Graph data –> <!– Schema.org markup for Google+ –>
Competitor Backlink Spy
You have competition. We get it. What are they doing? How can you compete? Now you can see what they are doing, helping you to define your strategy, helping you make more money.
Build High Quality Links with the Help of Your Competitors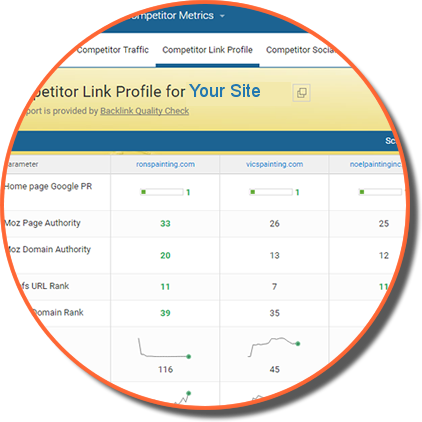 ---
Potential Link Source
Your competitors are a great place from which to get a list of the best resources to be linked from. The Google Hummingbird algorithm rewards both you and your competitorsfor being linked together from a valid third party's page. 
Citation Building
Citations, or mentions of your URL or a brand name without a link, improve your search visibility too. Try to be mentioned where your competitors already are. Local events, Chamber of Commerce sponsorships, and Toy Drives area good examples.
What You Get with the Competitor Backlink Spy
Spy on up to 10 competitors
Spy on up to 10 competitors with high search engine rankings to reverse engineer their backlink building tactics and outrank them easily. As competitors change, delete and add others.
Building Citations
Citations are "links without links" that help your pages to rank better. Contact website owners who mentioned your competitors. It's quite possible that you can get mentioned there too. Be sure and build your own with local events, news stories and sponsorships.
Backlink Opportunities
You can research what kind of content your competitor generates that gets the most backlinks (reviews, infographics, how-to articles, etc.). You can develop your strategies accordingly to get more natural backlinks.
Linking Pages Analysis
By evaluating the quality of pages linking to your competitors, you can start your link building with the pages that have high Google PR. By linking to those as well, they will bring the most value.
Automated Scheduled Checks
You can Schedule the Competitor Backlink Spy report to run automatically weekly, monthly or quarterly to make certain your competitor information is up-to-date.