Backlink Quality Check
You need links. We get it. Our Backlink Quality Check reports the juicy links and the toxic links. Now you can strengthen your backlink profile to maximze it's effectiveness, helping you make more money.
Post-Penguine: Improve Your Backlink Profile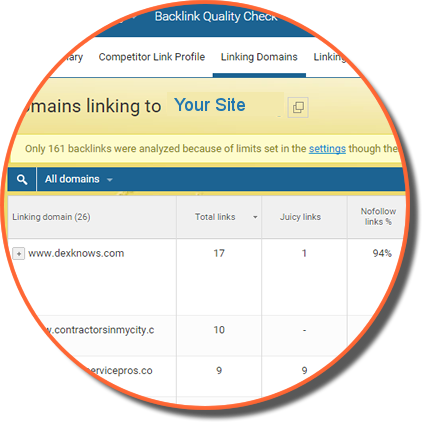 ---
Spy on Your Competitors
Want to know how you fare against your competition? See what your competitors' weak points are. This will help you to develop an outranking strategy.
Who Is Linking To You?
After the Google Penguin updates, not only is it important to measure the quantity of your backlinks, but their quality as well. Also, find out who links to you and remove toxic links that could harm your rankings.
Diversify Your Backlink Texts
Analyze what texts are used in links to your pages and diversify them. If you have too many exact matching backlink anchor texts, your backlink profile will look unnatural for search engines. Make sure your site doesn't alarm the Google Penguin penalty filters.