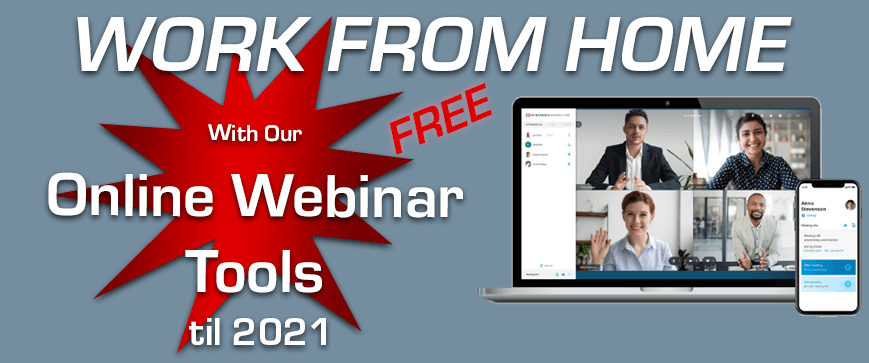 Webinar Pro and Online Meeting Pro FREE until 2021
In light of the COVID-19 pandemic that is affecting communities and businesses worldwide, we at Red Sneakers Mobile Marketing are committed to decreasing the risk and prioritizing the well-being of our community of stakeholders. To help businesses and organizations that need to support remote workers with effective communications and productivity tools, Red Sneakers is now offering our Webinar AND Online Meeting PRO services at no cost through December 31, 2020.
Webinar Pro - One FREE Webinar Pro license per account. Webinar Pro enables companies to hold larger live broadcast events for up to 200 people, such as corporate all-hands meetings, webinars, lectures, religious services, and other virtual events. Normally $129/user/mth.  FREE until 2021.
Online Meeting Pro - One FREE Online Meeting Pro license per account. With Online Meeting Pro, remote workers can hold global online meetings using high-definition video & audio conferencing, screen sharing, call recording, chats, note-taking, and more, with no restriction on meeting length. Normally $9.95/user/mth. FREE until 2021.
IMPORTANT: Due to the expected high demand for this offer, customer support for the users of this offer are limited to our Knowledge Base Articles.
Sign Up For Your FREE Webinar PRO and Online Meeting Pro
---
Grow your business with easy-to-use online meetings
Video Conferencing
With Online Meeting, you can use HD video and audio meetings for a more personal and powerful connection. Easily view facial expressions and other visual cues for a rich, personalized in-meeting experience that will translates to higher engagement, higher productivity and higher sales versus travel or traditional phone conferencing. 
Screen Share
Hosts and attendees can easily share their screen or applications with one-click to easily collaborate and make edits in real-time. Or for more polished presentations upload PDFs or PowerPoints ahead of time. Screen Share makes it easy to present to a group of prospects or employees, getting your message across to many.
Webinar
Host your own webinars to promote your products and services. Webinars are good for any e-learning environment and can increase your leads, sales and ROI. With our PRO version, you can record the entire presentation, then archive it on your website for addtional content.
Conference Bridge
Integrated conference bridge and mobile apps make it incredibly easy for anyone to join meetings. Either dial in from phone, or join via mobile, for a truly "on-the-go" experience.
Custom Branded 
You can custom brand your online meetings with your company's logo and personalized background.
Collaborate with colleagues and partners without traveling
Accelerate sales and marketing activities with live presentations
Support real-time or on-demand training and content sharing
SCREEN SHARE, WEBINAR, VIDEO CONFERENCING
Online Meeting is a turn-key online meeting service for individuals as well as teams. Available in three packages that include everything you need to help your customers host truly productive online meetings.